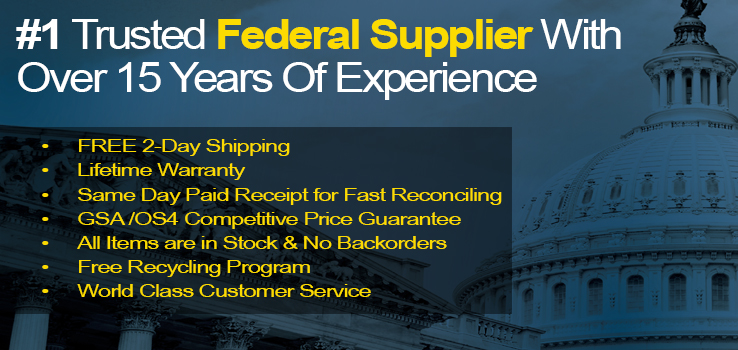 Vivid Imaging Solutions has helped to solve government budgetary issues for 15+ years.  Our government customers know they can rely on us because of our track record in offering competitive prices, high quality products and exceptional customer service.
Our specialists understand the unique requirements of federal government agencies. From our selection of quality products and services to our strategies for improved procurement efficiencies, you'll find solutions to cut costs and maximize productivity.
Ink and Toner Cartridges
Office Supplies, Printers
Janitorial and Sanitation Supplies
Office Furniture for Business
TAA-Compliant Items
Where You Can Find Us
Dun and Brad Street: D-U-N-S Number: 105974258
Cage Code: 89JA2
Government Agencies Supported
US Department of Veterans Affairs
US Department of Labor
US Coast Guard
US Department of Justice
US Department of Homeland Security
US Department of Agriculture
US Department of Justice
US Department of Defense
US Army
US Airforce
US Navy
US Postal Service
US Health and Human Services
US Agency for International Development
We know how important your job is when ordering supplies and what your looking for. So below is what we will deliver to you and your staff.
Quality TAA-Compliant products the Government requires you to buy.
Customized delivery instructions to make sure your packages are accounted for and labeled. Which includes if you're a buyer for different federal offices, sub-offices, resident offices, hubs we will drop ship for free to anyone of them your ordering for.
Paid receipts within 24 hours of purchasing with your Government P-Card.
Notify you before your transaction is process of any items that maybe back ordered.
Overnight items on the house for you to be able to operate.
24 hour support for any questions or concerns you may have.